Apocalypse now!
October 7th, 2011

To hear the ancient Mayans tell it, I'd best hurry up with my unfinished projects—because time is running out.
Putting the veracity of such tales aside, this prophecy stuff sounds like a fun illustration topic. So my good friend and old-tyme RISD buddy Thomas Quinn had the ingenious idea to count down our remaining days in style by designing and curating a 2012 Apocalypse Calendar, featuring a different artist for each month. The result of all his hard work (read: herding cats) is a fabulous collection of artwork, a beautifully designed finished product (great job, T.Q.!)—and possibly a niggling sense of dread as the days count down.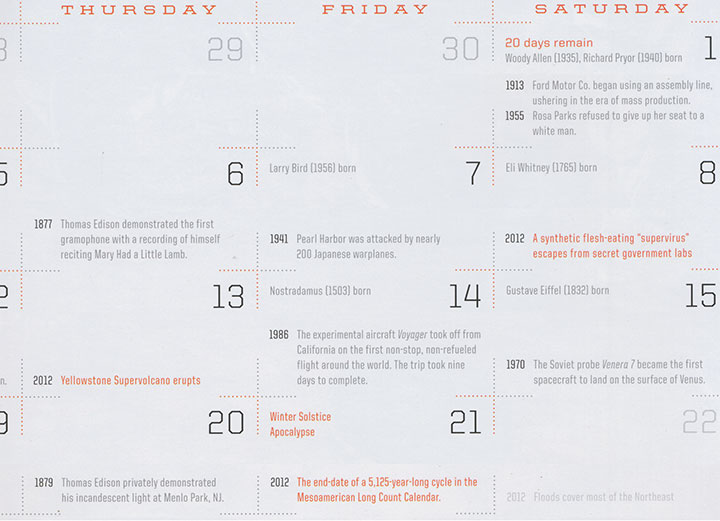 Oh, and here's a sneak peek of the December page in the calendar—look closely and you'll see the End Times already conveniently marked for you. Thanks for the heads-up, Mayans!
Besides the added bonus of working alongside both old friends and rock-star artists I've admired for years, I loved the fact that Tommy let me interpret the theme however I pleased. Rather than going down the illustrated path of mass carnage or Biblical archetypes (I figured those topics would be well covered by the other folks), I decided to time-travel back to my favorite mass-hysterical era, the 1950s.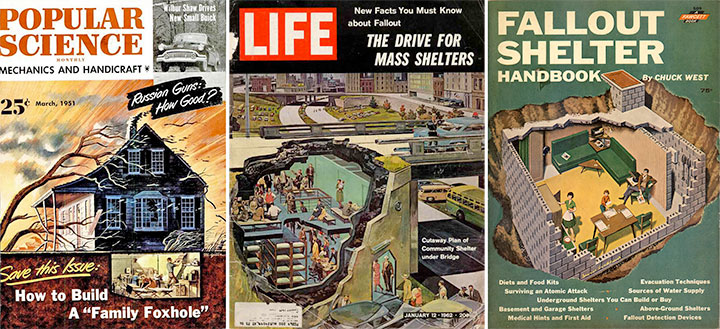 I did a little research, and dug up a whole bunch of vintage advice on how to survive the end of the world—including a handbook on how to build a fallout shelter, and how to keep yourself amused once you're in there.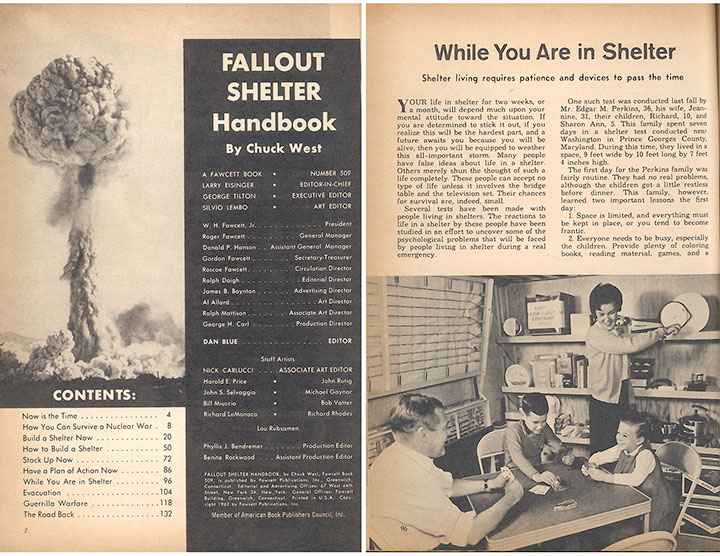 This thing just cracked me up. It has all kinds of "expert" wisdom (like how to fend off the roving bands of contaminated neighbors who will inevitably stop by to borrow a cup of sugar) and cheery photos of housewives preparing dinner with a can opener while dear ol' Dad bonds with the kids.

Which, of course, reminded me of my other favorite relic from the 50s: illustrated cookbooks. Talk about a goldmine! Everybody from uncredited production interns to the late, great Charley Harper did a cookbook back in the day. The fact that these illustrators were often limited to cheap, two-color printing actually made for surprisingly innovative and beautiful results.
And of course, as you already know, I am completely fascinated by the sheer number of terrifying Jell-o recipes and ill-advised casseroles that crop up in old cookbooks. And since that got me thinking all sorts of wonderfully twisted things about housewives at the End Times, and how Jell-o can probably survive a nuclear holocaust, I decided to combine the two.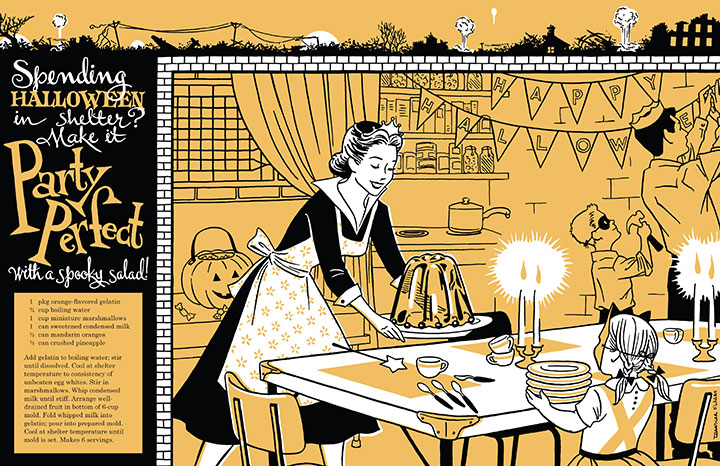 So here's my contribution to the calendar: how to bury your head in the sand, in style. I asked Tommy for October, since it's my birthday month, and he was kind enough to oblige. So I went nuts with the pumpkin orange and threw a Halloween party.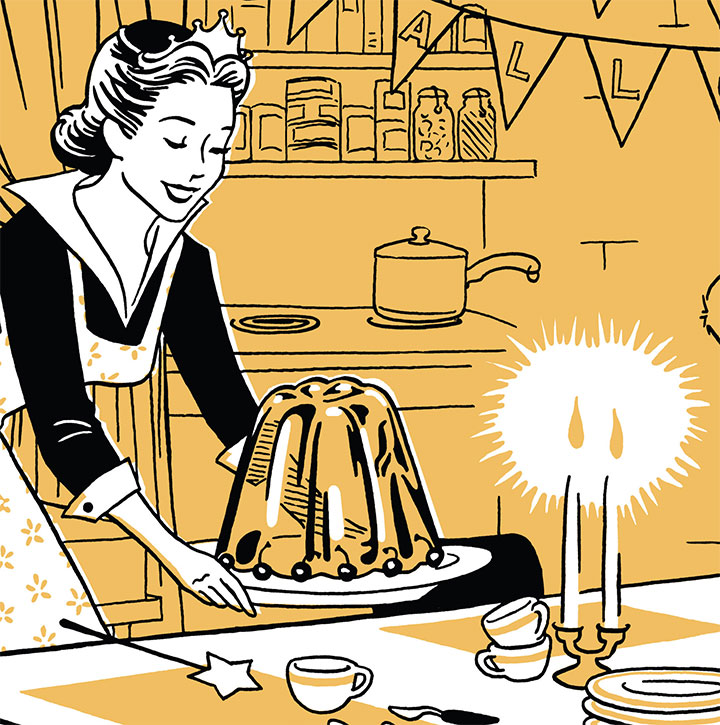 Complete with absurd salad recipe (that you could actually make, but I wouldn't advise it), shelter decorating hints—

—and just a little untold destruction, for garnish.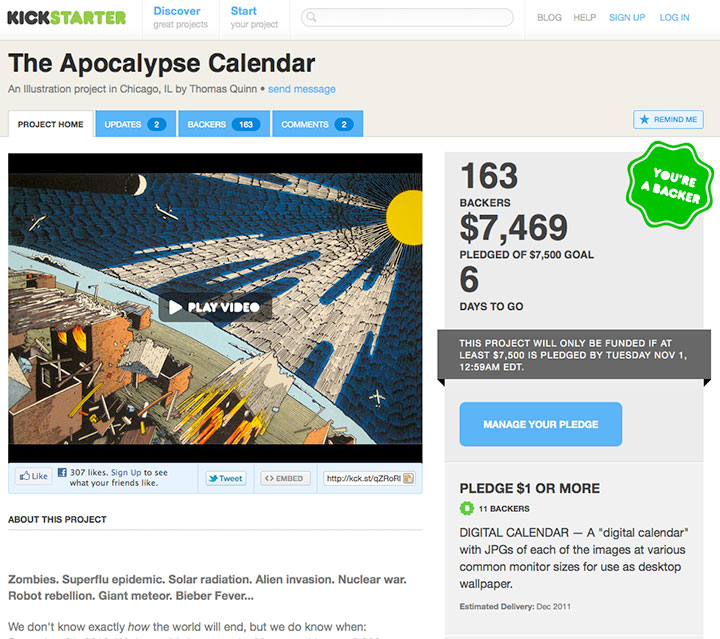 Illustration by Jay Ryan
We decided that spiffy, large-format, high-quality offset printing is the best way to show off the artwork, so we've set up a Kickstarter project to fund the thing. (We even put together a nifty and hilarious video!) Kickstarter is a fairly new phenomenon, and it's proven to be a wonderful resource for artists, especially—and since the Kickstarter logo uses the same font as the Dunkin Donuts logo, it makes my designer's lizard brain happy.
Kickstarter works the way an NPR pledge drive does—you get various gifts in return for your support amount. Twenty bucks will buy you a calendar, and there are a bunch of goodies available at other pledge levels, like signed calendars, original art, and even the ability to make the artist of your choice do your bidding and draw your apocalyptic portrait. (Yes, you read that right.) If we meet our goal, we'll be shipping calendars in December.
Now, the tricky thing about Kickstarter is that it's an all-or-nothing kind of thing. If we don't make our set funding goal by the time the clock runs out, the apocalypse will come early we don't get any of the moolah pledged so far. So pretty please, do us a huge favor by doing your annual calendar shopping a wee bit early—you can make your pledge here.
After all, if the Mayans have their facts straight, this is the last calendar you'll ever need to buy, right?