Droplets
June 21st, 2013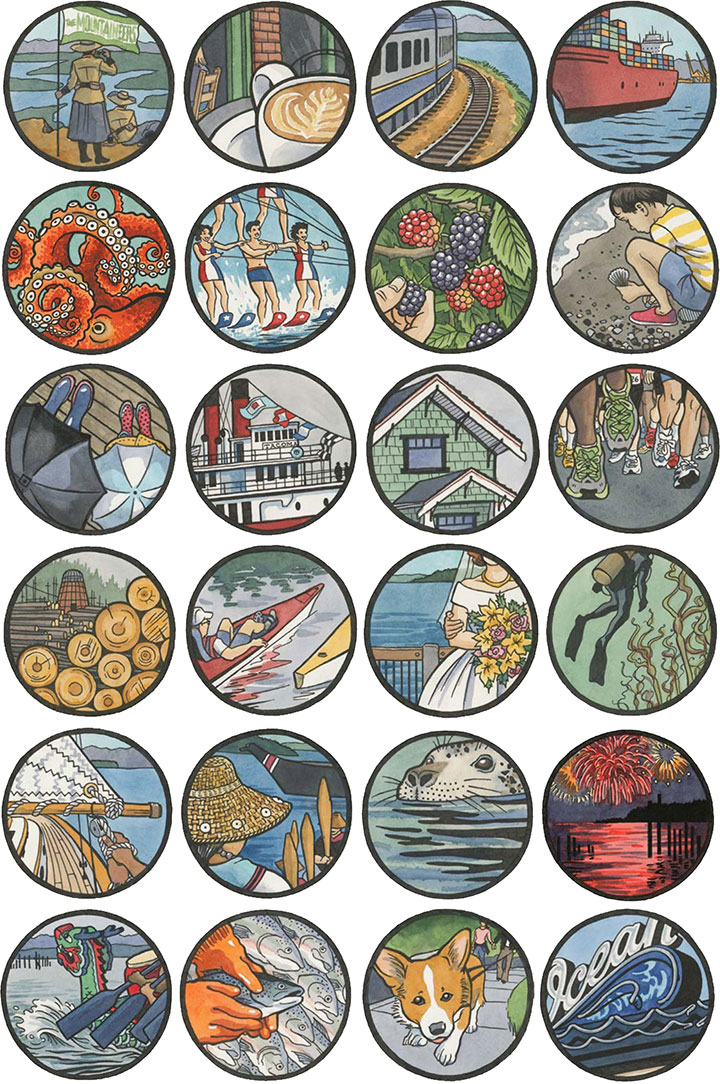 Okay. Now that Old Town Dock is officially open, I feel like I can finally give away some juicy details. Here are all 24 medallions (portholes?) in my new public art piece, Droplets. Since not everyone reading this post is local to Tacoma, I won't go into great detail over every image. But to give you some context, Old Town Dock boasts one of the best vantage points in the South Sound, with beautiful views of land, city and sea in every direction. That's what first drew me to the site: I wanted the chance to encourage people to look all around them, because there was something to see everywhere you look.
But when I started researching the history of the place, I was even more struck by how much had happened in Old Town over the years—and how much was still going on, every day. Because of its prominence in so many lives and livelihoods, Old Town Dock has stood witness to a staggering number of true stories since it was built in 1873. Family histories, booming industries, important events, Native traditions, beginnings, endings, drastic changes, slow growth, celebrations, tragedies, and a thousand everyday narratives—the stories we tell are as commonplace as raindrops, yet as precious as the water that defines and sustains Tacoma as a city.
Droplets references just a handful of these stories, yet hopefully hints at the diversity and richness inherent in our public spaces.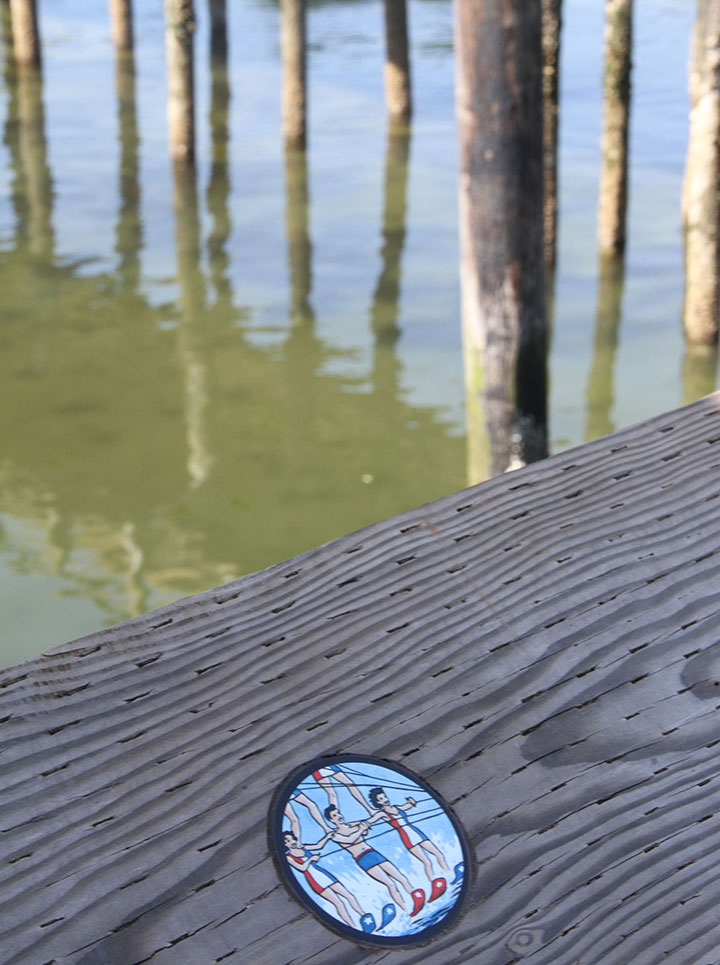 Going from a painted picture to a tangible, finished object was nearly a two-year process, and I was only one small piece of the puzzle.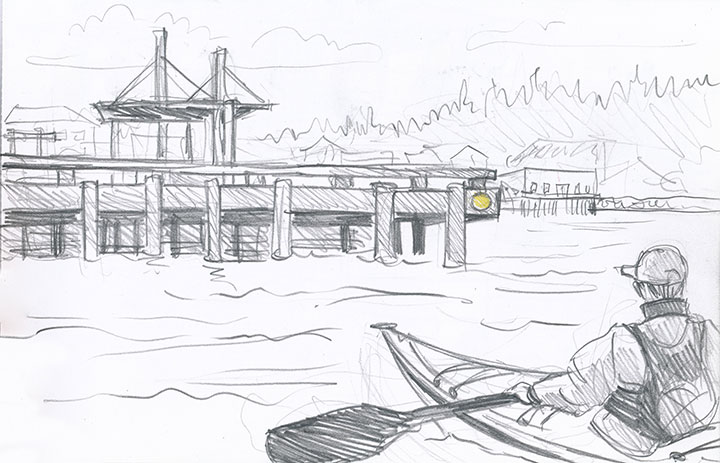 And the 24 medallions barely hint at the number of drawings I did along the way. Back when I was a finalist for the commission, I needed to demonstrate my understanding of the space, and convey how I wanted the artwork to function to the selection committee. In this area, pictures really were worth a thousand words apiece; time after time, sketching out what I meant was infinitely more effective than trying to explain it in words.
As I was working on my presentation, all this drawing and imagining every angle gave me a little epiphany. I realized that while the view from the site was spectacular, the Dock itself was part of the view, too, depending on where you stood. Since Old Town Dock is a gateway between land and sea, I wanted to engage the folks who'd be arriving from the water, as well. So I presented this drawing—and while some other things have changed along the way, the reality of this particular piece is almost exactly as it appears in this sketch.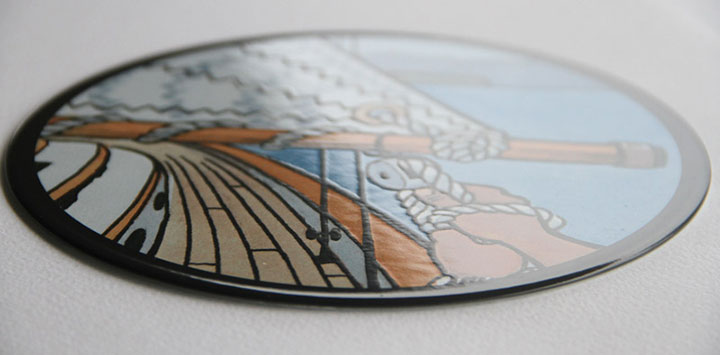 Anyway, back to the nuts and bolts. As you're well aware, I'm an illustrator—I work in paint and pixels, not industrial components. I didn't have the skills or tools to make outdoor pieces out of durable materials (in public art, durable materials include metal, glass, tile, stone, brick, and other permanent industrial media; a mural, for instance, is not considered "durable"). So I turned my designs over to the good folks at Winsor Fireform, a fabricator just down the road in Olympia, and they reproduced each Droplet as a small porcelain enamel disc.
Porcelain enamel is the most durable sign medium available. Each piece is made by reproducing the image in pigmented powdered glass onto a steel base. Then the piece is fired at kiln temperatures to fuse the glass to the steel, creating a permanent, totally nonreactive surface.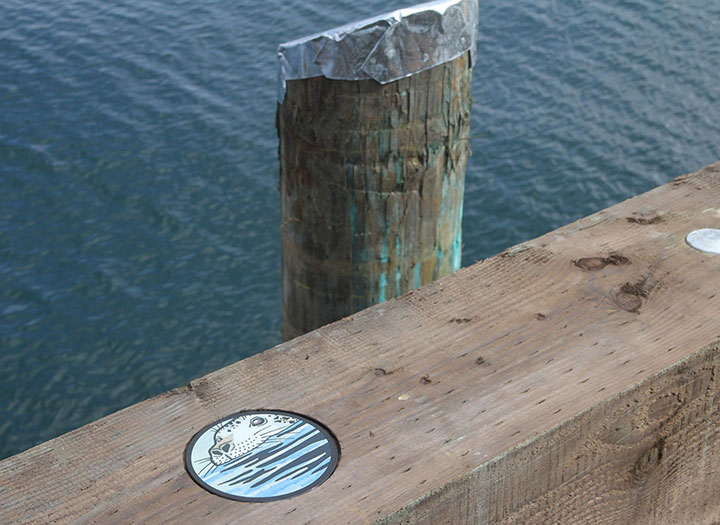 Porcelain enamel won't fade in UV light, won't react to water or salt, and is resistant to dirt and graffiti. That makes it ideal for public art, and the perfect medium for the harsh marine conditions at Old Town Dock.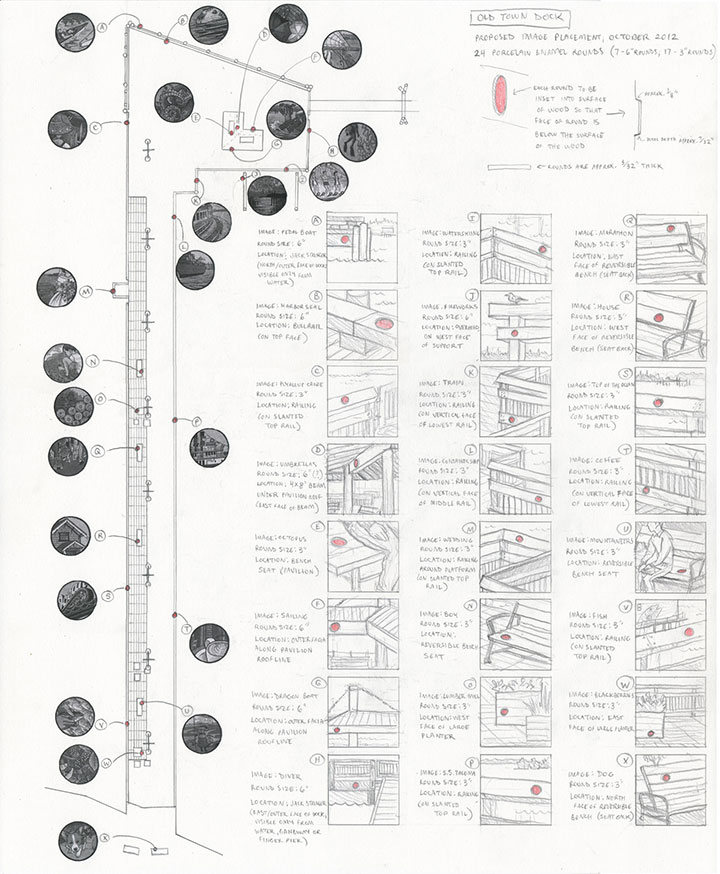 Now all that was left was to install the rounds. I came armed with my scale drawing—and lots and lots of warm clothing for a long shift in the early morning rain.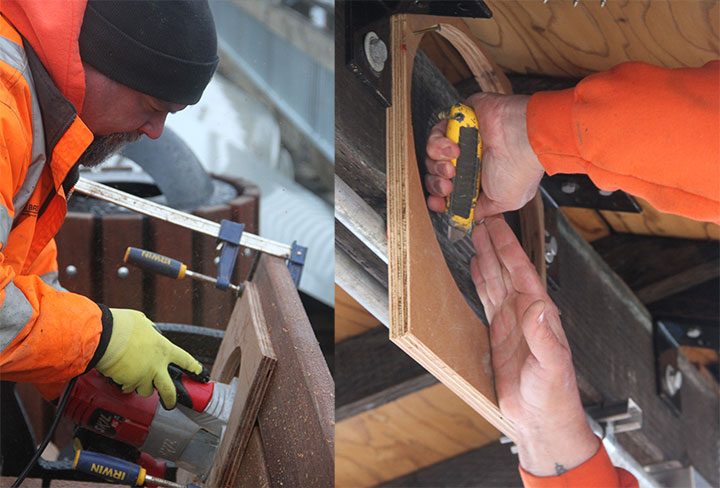 Basically, I stood and pointed, and Pat routered out 24 perfectly positioned circles.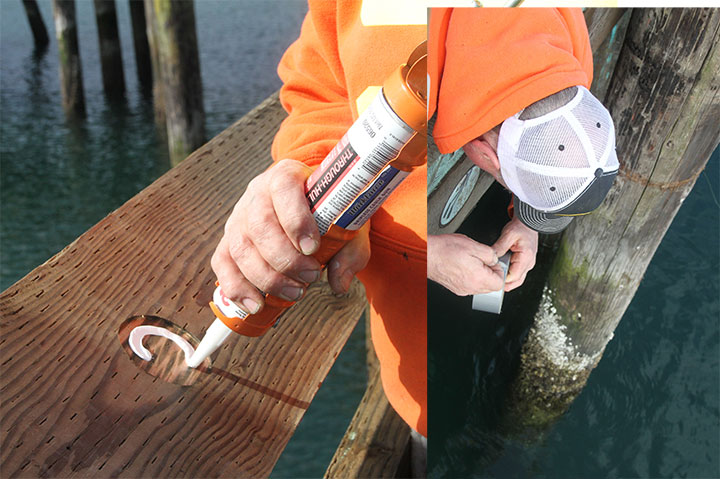 Then he inlaid each disc, affixing them to the wood with some seriously heavy-duty marine sealant, and Bob's your uncle. Actually, it wasn't always that easy; some of the rounds required some acrobatic feats to install. Just passing him tape measures and things gave me vertigo sometimes—but at least he didn't have to drill while standing in a choppy rowboat (which was plan B, if hanging off the edge didn't work).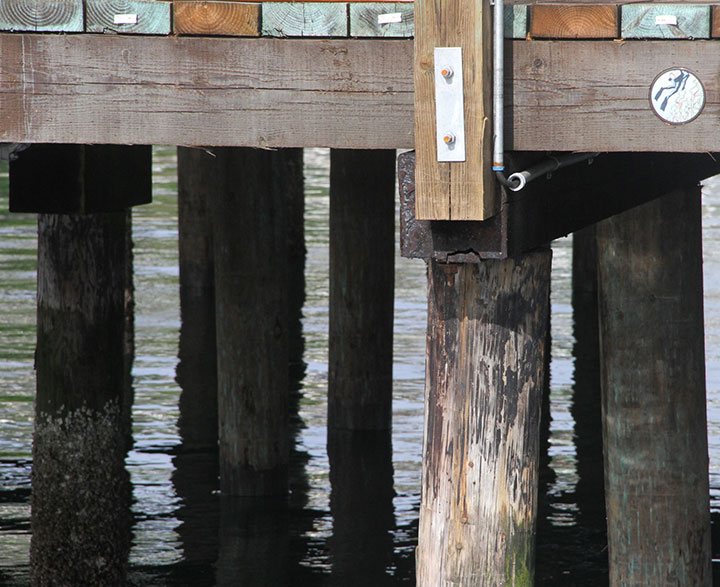 Twenty-four hours later, the adhesive was fully cured, and I could call it done.
The day we installed, nothing on the Dock was completely finished—benches and planters were still piled up at random, and I wasn't entirely certain that the final placement would match my scale drawing.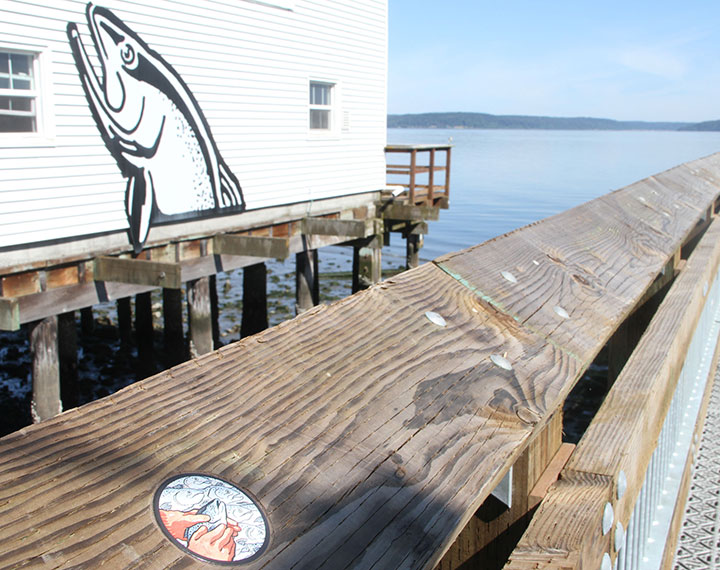 But now it sort of feels like the artwork has always been there—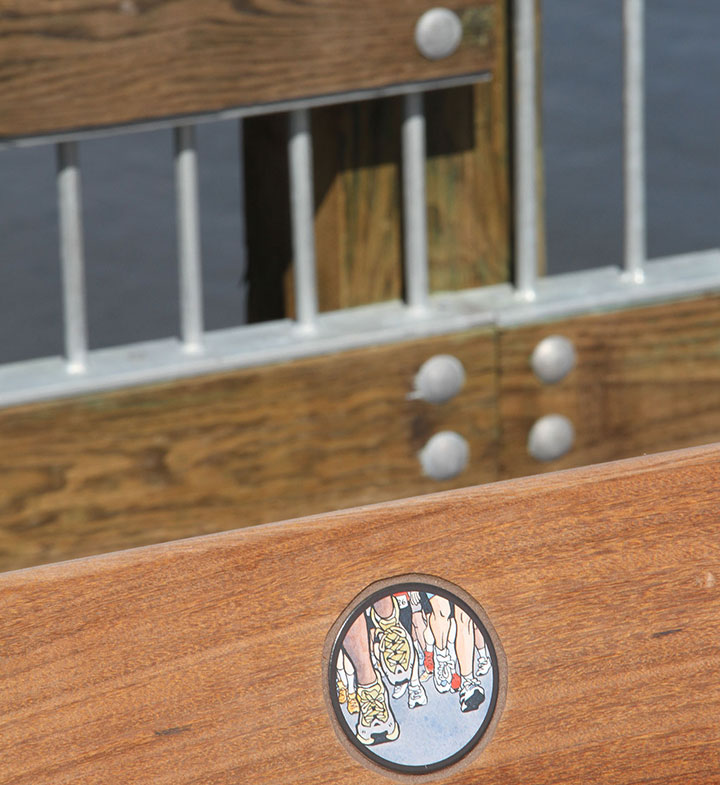 and maybe you just never noticed it before.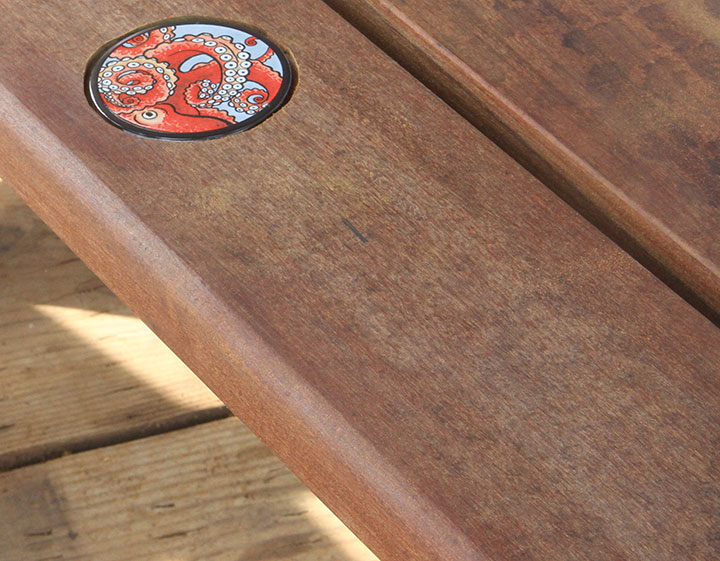 I love being there to witness whenever a Droplet catches someone's eye, and they stop whatever they're doing to look more closely.
And just maybe that moment of noticing will lead to the words, "Let me tell you a story…"