Nightsong
September 10th, 2013
As the school year begins again and the pace of life quickens, the easy pace of summer has made way for a season of bustling, planning, and dreaming of times ahead. Yet worldwide, over and over again, the plans and dreams of so many women and girls are cut short by violence. In light of recent high-profile crimes halfway around the world, Jessica and I though it was high time we spoke up. This time we drew inspiration from the Nightingale of India:
What hope shall we gather, what dreams shall we sow?  — Sarojini Naidu
"Nightsong" honors the hopes and dreams of women and girls in every culture—in defiance of the world's dangers. The illustration depicts a lush dream menagerie printed in bright, exotic hues. Tigers, peacocks, elephants and nightingales stand sentinel around our heroine, surrounded by detailed paisleys and florals drawn in the style of Indian mehndi designs.
To make this print more dreamlike, we decided to throw a tricky technique called split-fountain printing into the mix—or "rainbow roll," for short.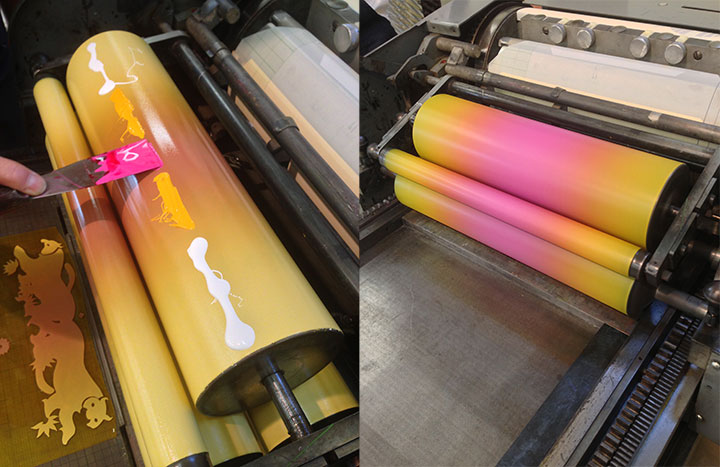 A split fountain is extremely difficult to control (advanced Eagle Scout printing here, folks), but the results are so lovely that it's absolutely worth the effort. As an added bonus, we were careful to keep our inks translucent—so when we registered the second color, that mixed the colors even further, giving us an entire rainbow spectrum with just two passes on press.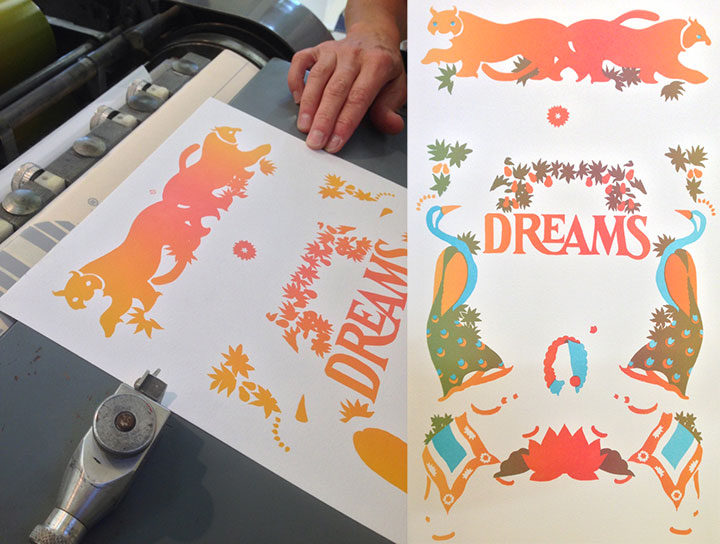 I should add, though, that while we love printing with a rainbow roll, the process is completely unpredictable, and the finished prints are far from uniform. So rather than an edition of absolutely identical broadsides, we ended up with a beautiful range of yellows, oranges, pinks and even reds, that vary from print to print. So my scans here are representative of the edition in general, but no two prints are exactly alike (so if you order a print, please allow for some slight variations from what you see here).

To help restore hope to victims and in honor of our dreams for the future, a portion of our proceeds will be donated to Take Back the Night. In order to create safe communities, Take Back the Night seeks to end sexual assault, domestic violence, dating violence, sexual abuse and all other forms of sexual violence.
• • • • • • • • • • • • • • • • • • • • • • • • • • • • • • • • • • • • • • • • • • • • • • • • • • • • • • • • • • • •
Nightsong: No. 18 in the Dead Feminists series
Edition size: 147
Poster size: 10 x 18 inches
Printed on an antique Vandercook Universal One press, on archival, 100% rag (cotton) paper. Each piece is numbered and signed by both artists.
Colophon reads:
Sarojini Chattopadhyay Naidu (1879 – 1949) — also known as "The Nightingale of India" — was born in Hyderabad, the eldest of eight children. She was a gifted student, proficient in five languages, and by age 16 left the country to attend King's College to pursue her interest in poetry. Inspired by the suffragist movement in England, she joined the struggle for Indian independence, traveling the country to lecture on social welfare, women's rights and nationalism. Naidu played a leading role during the Civil Disobedience Movement and was jailed along with Gandhi. Naidu wrote beautiful lyrical poetry, focused on Indian themes, to inspire the nation. She was the first woman to serve as president of the Indian National Congress, and the first woman to become the Governor of the state of Uttar Pradesh. Though Naidu humbly claimed, "I am only a woman, only a poet," her birthday is celebrated as Women's Day throughout India.
Illustrated by Chandler O'Leary and printed by Jessica Spring, calling for an end to violence against women all over the world.
UPDATE: poster is sold out. Reproduction postcards available in the Dead Feminists shop!