T-minus…
September 14th, 2016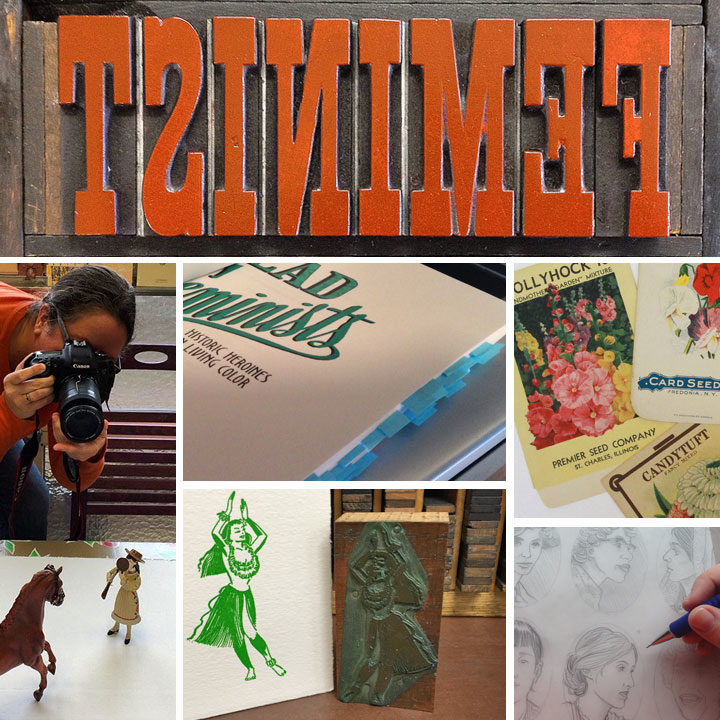 Jessica and I were so immersed in the process behind our book for so long that it still feels weird that the final product is almost here. Yet here we are, just under a month away from our release date! We have a metric ton of events planned in the next few months, with more being added all the time. And since releasing a book is a bit different than releasing a broadside, we're already getting lots of questions about how this is all going to work. Here are the ones we're hearing the most so far:
Where should I buy my copy? Should I wait until the release date?
You can preorder the book now from your favorite bookseller. Large or small, brick-and-mortar or virtual, indie or corporate, they can all get our book into your hands, and we have links to the book on both large and indie retailers over on our book page. Here's the thing, though: preordering your copy really does help. Preorders can help retailers foresee how popular a book is going to be—the more preorders there are, the more they'll stock when the book comes out. And more stock raises the book's ranking, making the title more visible and searchable on retailer websites. It helps spread the word for us and introduces our book to a wider audience. So if you're so inclined, preordering now will help ensure we get a good head start.
Would you rather I buy it from you and Jessica directly?
Thank you for thinking of us, and wanting to support us directly! In the end, though, we've decided that we will only be selling the book ourselves at certain local, in-person events. Events where we will sell the book ourselves include:
• Tacoma Studio Tours, October 15-16
• Our exhibit opening at Seattle's School of Visual Concepts, October 29
• Our Portland Lit Crawl event, November 3
• Our artist talk at the University of Puget Sound Library, November 8
• Our library talks in University Place (December 14) and Lacey (December 15)
• And by request/appointment for Seattle/Tacoma-area folks (you can always contact us if you want to do this)
If you want your copy shipped somewhere, your best bet is to order from your favorite bookseller. And since many of our other events are being hosted by bookstores and galleries, those folks will handle sales at those events. Here's where you can find an up-to-date list of all our events so far.
What if I want a signed copy? If I'm not local, can I still get one?
Absolutely! Our local bookstore, King's Books, is offering signed copies, which you can preorder on their website. They can ship anywhere in the world—all you need to do is specify that you want a signed copy in the "order comments" box when you place your order. Also, please specify if you want your book simply signed, or if you want it personalized to a specific name.
I am local, and I want to celebrate! Are you having a book release party?
You betcha! We're having our official release party at King's Books in Tacoma, on Tuesday, October 11 at 7 pm. And it's a costume party! Come dressed as your favorite dead feminist and celebrate with us.
I'm a retailer, and I want to carry your book in my store. Do I purchase copies from you?
Retailers can buy wholesale copies direct from Penguin Random House, who is distributing the book. You'll need to set up a retail account with them first, but from there bulk orders are easy. To get started, call 800.733.3000 or email csorders [AT] penguinrandomhouse [DOT] com.
Since the book is coming out, does that mean the letterpress broadside series is ending?
Not at all. Actually, our 24th and newest broadside will appear both in person and in the book concurrently. So that means we're keeping it under wraps until the book comes out, but we'll have some sneak peeks to show you in the next few weeks. And if you're local, you'll be able to see the print in person at Studio Tour on October 15-16, or at our upcoming exhibits in Seattle and Portland.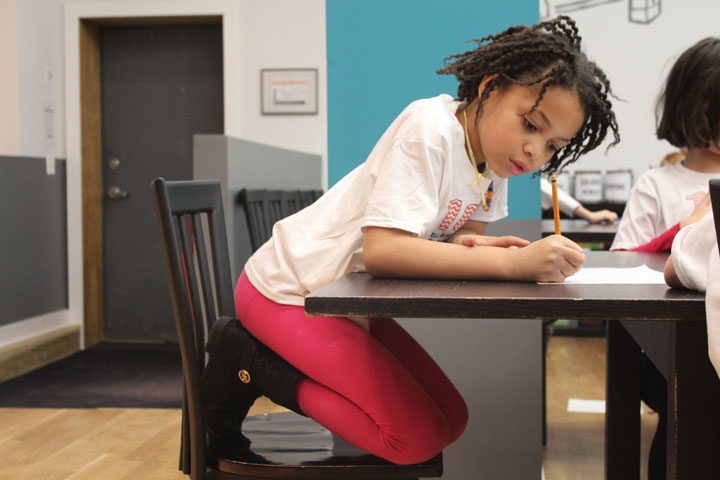 A young writer at one of 826CHI, a writing center we supported with our Warning Signs broadside. Photo courtesy of 826CHI.
And that brings us to some other great news we wanted to share with you. As you might already know, previously when we have released letterpress broadsides, we have also made donations to nonprofits that align with the issues we highlight with each print. With the book and broadside #24 about to come out, we're starting a new chapter by inaugurating the Dead Feminists Fund.
In honor of the power of women's work, the Dead Feminists Fund supports nonprofits that empower girls and women to create change in their own communities. Like our book, funding is organized under a series of Action Verbs ("Make," "Grow," "Lead," "Tell," etc.), which translate to micro grant categories. Each year the Fund will support nonprofits with micro grants in one of our Action categories.
The Dead Feminists Fund is a component fund of the Greater Tacoma Community Foundation, which manages, administers and invests in over 400 charitable funds, right from our home community of Tacoma. Being under the auspices of the GTCF allows donations made directly to the Dead Feminists Fund to be tax-deductible, and provides the proper legal framework to protect both our donors and our grant recipients.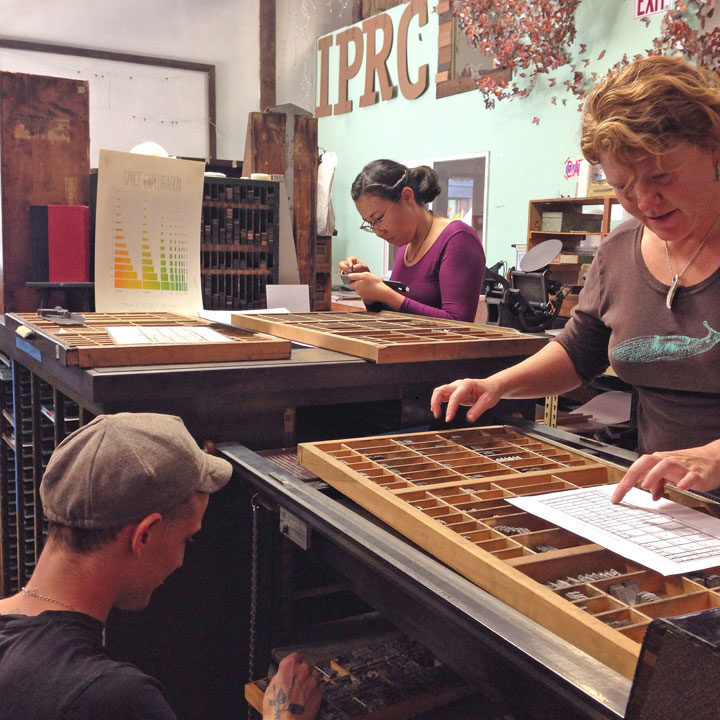 Artists typesetting at the Independent Publishing Resource Center, an organization we supported with our Paper Chase broadside. Photo by Caitlin Harris.
We seeded the Dead Feminists Fund with a large percentage of our book advance, and we will continue to donate a portion of our future broadside proceeds to supporting the Fund. Best of all, thanks to the generosity of Sasquatch Books, a portion of the sales of our book will also be contributed to the Fund. We're especially grateful to Sasquatch because as an indie regional publisher, they understand the importance of giving back to one's community, and how small gifts can make a big impact. And Sasquatch also knows the importance of supporting women and girls—after all, the team of editors, designers and marketing folks who have worked with us on our book with us are all women. If that's not girl power, I don't know what is.
If you'd like to support the Fund directly, you can make a tax-deductible donation directly through the Greater Tacoma Community Foundation website. (At that link, scroll down to find the Dead Feminists Fund in the alphabetical list.)
As always, thank you so much for your support of our series over the last eight years—we can't wait to share the next chapter with you.
Save
Save