October 25th, 2016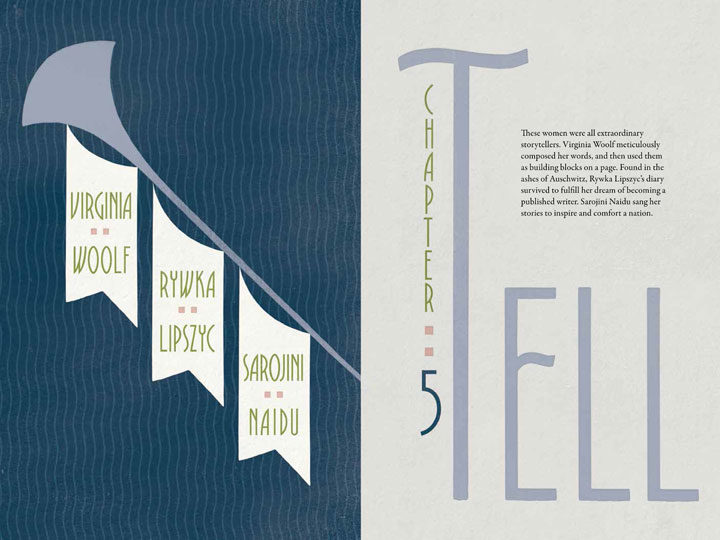 Dead Feminists: Historic Heroines in Living Color has been out in the world for a few weeks, and most folks have been excited (beyond our immediate families). A common response has been one of surprise: "it's a real book!" Dashing expectations of a coffee table book, Dead Feminists is more than 180 pages of the women, history and social issues entangled in our series of broadsides. Questions about the writing process have come up, from assumptions that we worked with a "real" writer, or that Jessica did the writing while I illustrated. While we definitely worked with talented editors at Sasquatch Books who steered the book towards "real" bookness, both of us did the research, writing and photo research over nearly two years. We also both contributed imagery in the form of illustrations—hand-lettered images from me and beautifully-printed vintage cuts and patterns from Jessica.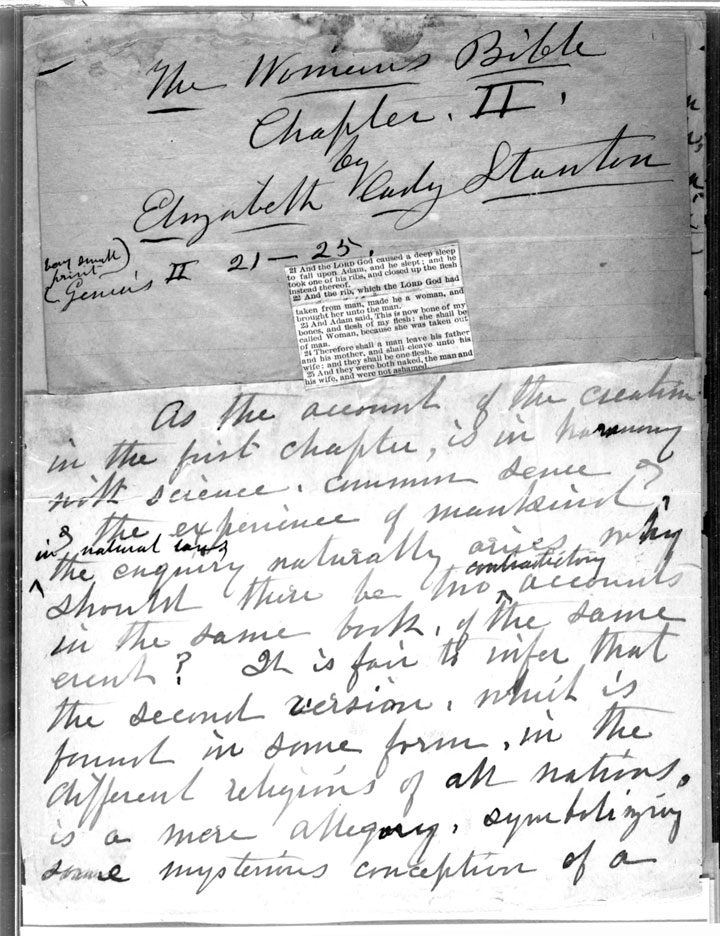 Many of our dearest Dead Feminists are writers, artists, or both– evidence that we all find a way to tell our stories. Elizabeth Cady Stanton, who launched our series, wrote most of the speeches delivered by Susan B. Anthony. Some writers and their books are well known, like Gwendolyn Brooks and Rachel Carson—who both confronted ongoing challenging social and environmental issues—and their voices can guide us still. We have mere fragments of poetry from Sappho and carefully handwritten letters from Jane Mecom to her brother—they give us insights into their lives and eras when words from women weren't often valued or recorded. In the chapter entitled Tell, we focused especially on women who had stories to share, like Virginia Woolf, who carefully crafted and composed both the pages and handset type for printing. Knowing the time and care involved, there is little doubt in my mind that the act of being writer and printer sharpens both crafts.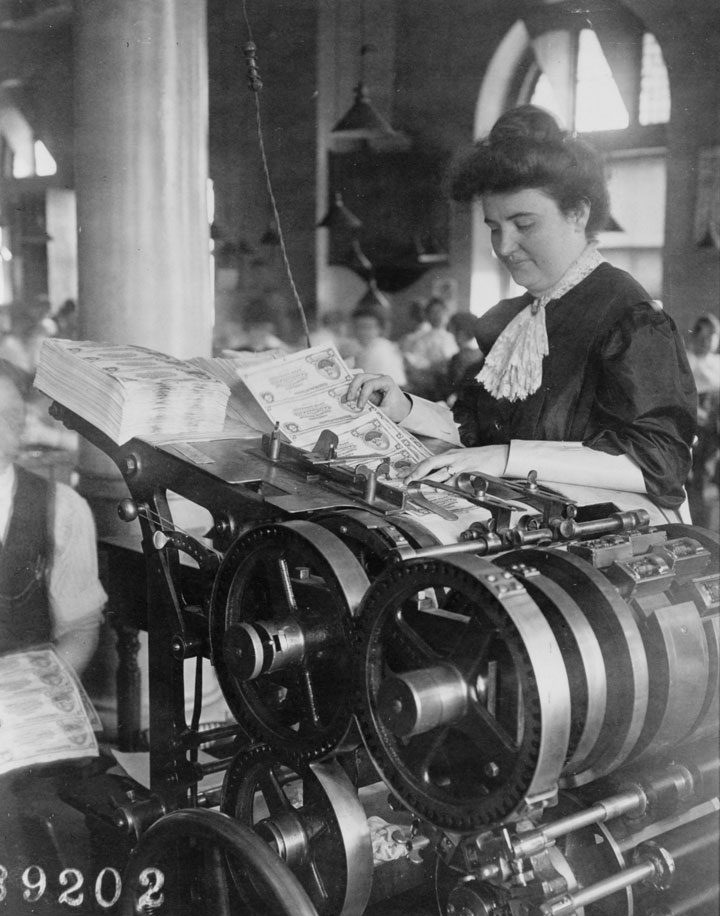 Without the discovery of Rywka Lipszyc's diary found in the ashes of a Auschwitz crematorium she would have disappeared from history. Sarojini Naidu dreamed of independence for India through her poetry ("Waken, O slumber Mother and be crowned") and was revered as a nightingale, filling the night air with song. We hope you'll explore these stories more in depth through the book—and for local folks we have some opportunities in the next few weeks to join us in person.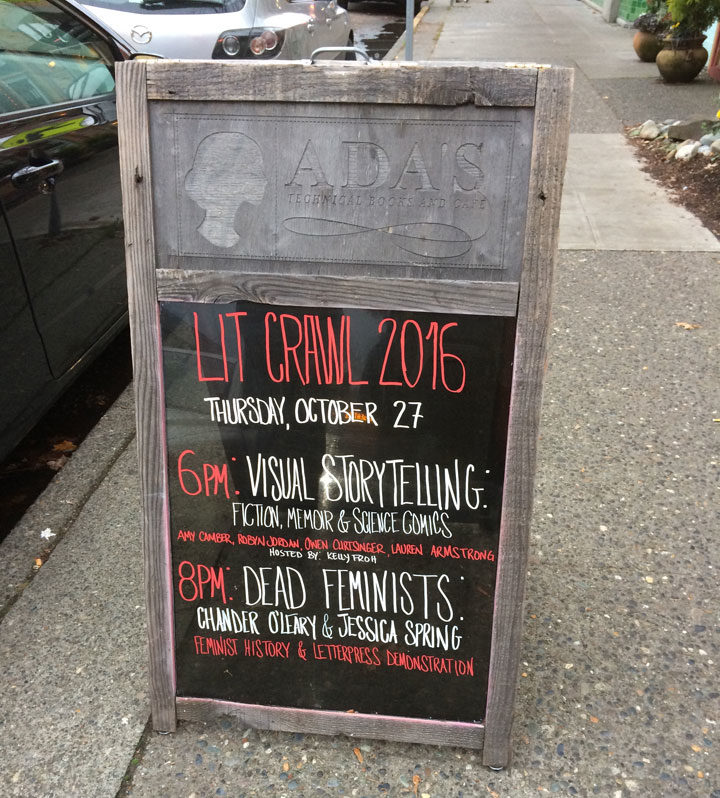 Here's what's coming up this week and next, when you'll find us invading first Seattle, then Portland. You can find future events and more info on our events page.
LIT CRAWL Seattle: Book signing and artist talk
Thursday, October 27, 2016, 8 pm
Ada's Technical Books and Cafe
425 15th Ave. E, Seattle, WA
BROADS AND BROADSIDES
A retrospective  exhibition featuring our series through broadsides and steamroller prints
Reception, book signing & costume party
Come dressed as your favorite historical feminist!
Saturday, October 29, 4 to 7 pm (the show continues through December 16th)
October 29 through December 16, 2016
School of Visual Concepts
2300 7th Ave., Seattle,WA
DEAD FEMINISTS and RAD WOMEN: joint author event
with Kate Schatz and Miriam Klein Stahl, authors of Rad Women Worldwide
Thursday, November 3, 2016, 7:30 pm
Powell's Books on Hawthorne
3723 SE Hawthorne Blvd, Portland, OR
LIT CRAWL Portland: Book signing and artist talk
Friday, November 4, 2016, 8 pm
The Big Legrowlski
812 NW Couch St., Portland, OR
WORDSTOCK: Portland's Book Festival
Chandler & Jessica appearing on an author panel
with Danielle Dutton, author of Margaret the First
and Laurie Notaro, author of Crossing the Horizon
moderated by Elly Blue of Microcosm Press
Book signing to follow
Saturday, November 5, 2016, 1:30 pm
The Old Church
1422 SW 11th Avenue, Portland, OR
BEACH BROADS(ides)
book signing and artist talk on the gorgeous Oregon coast!
Saturday, November 5, 2016, 6:30 pm
Beach Books
616 Broadway, Seaside, OR
Save
Save