Here, kitty kitty…
December 4th, 2012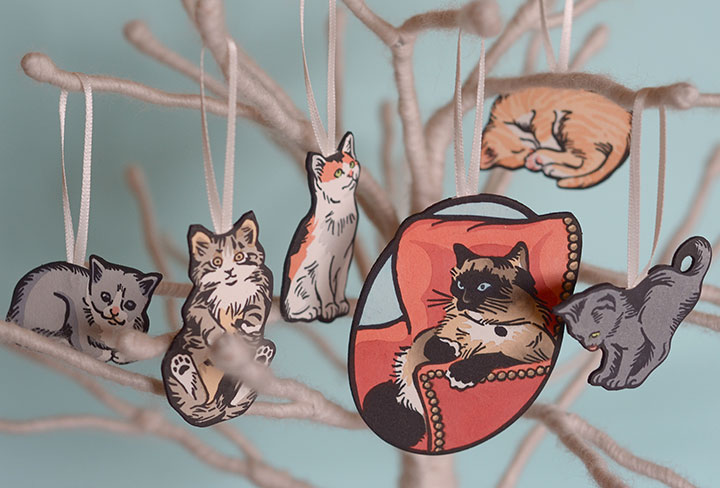 Photo by Laurie Cinotto
Right now my little cottage-industry factory is churning out Christmas—starting with this year's letterpress ornament collection. This is the second year I've made letterpress ornaments, and I have been dying to show you this year's crop.
Thankfully, I can finally let the…ahem…cat out of the bag.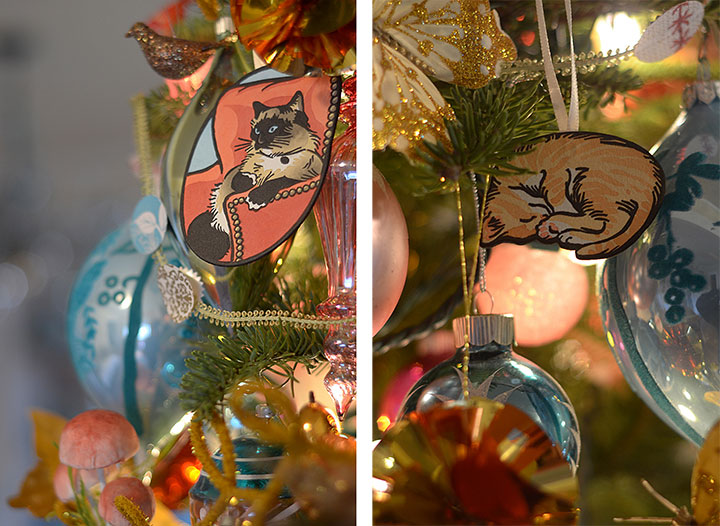 Look at Laurie's amazing tree! She is the queen of holiday decorating.

There are two sets of ornaments this year, and for one of them I collaborated with my friend Laurie Cinotto, the fabulous fine-craft genius and kitty wrangler behind the insanely wonderful Itty Bitty Kitty Committee. A year ago I asked her if she'd be interested in doing a set of kitty ornaments, and for months now we've been positively chortling over these things. (Curious fact: we make nearly identical chortle sounds.)
The really hard part was picking which kittens from Laurie's nearly endless alumni and gorgeous photographs to illustrate. In the end, I settled on a few of my all-time favorites: Clovis Ashby, who is a bit of a Tacoma celebrity. Extra-pretty Victoria Anne McGillicuddy in all her calico glory. Aloysius Petrie for his "Who, me?" look. My particular friend Baxter Lamm, who now makes mischief full-time at Jessica's house. And Pearla Dearborn, to whom my secret heart belongs forever (even though she doesn't live with me). And watching over the flock is Laurie's own Empress Mama cat, Charlene Butterbean.
These kitties (and Laurie's photographs) are T-town legends, as I found out this weekend. We did a little ornament test-drive at a local craft fair, and people kept saying things like, "Hey, that's Clovis on that tree!" and "Wait a minute—what is Charlene Butterbean doing at your table?" But whether these guys are old hat for you, or you're a dog person who's never heard of such a thing as kitten blogs on the Internet—well, I just dare you to tear your eyes away from Laurie's world.
There are just 200 sets of these ornaments to go around, and each one is ridiculously handmade. To give you an idea of just how ridiculous, I thought I'd walk you through part of the process.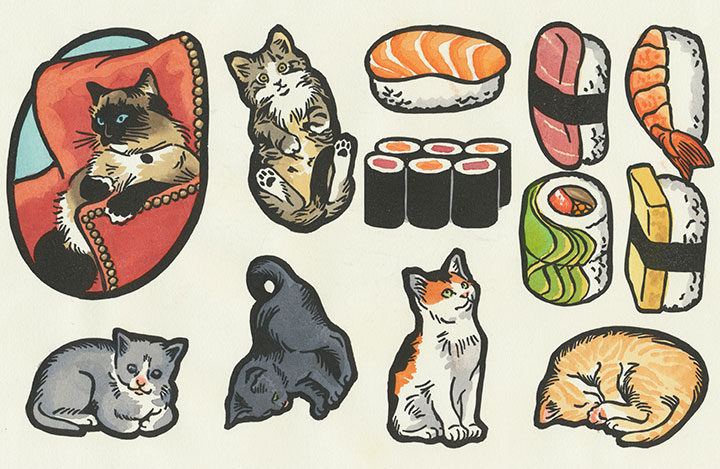 Yes, there's sushi on that press sheet. That's the other ornament set this year…
Y'all know my printing process pretty well by now, so I'm going to skip ahead a bit. Just FYI, these are linocuts; check out my bird prints if you're curious about that process. But as you can see, I printed both ornament sets all at once, on one press sheet.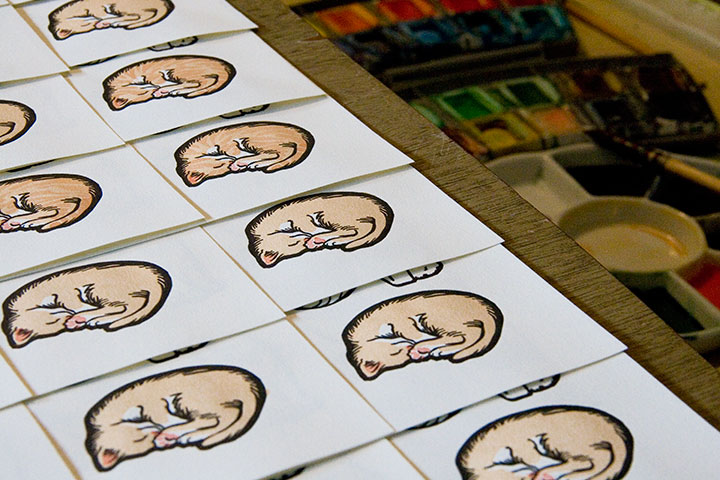 Then I went ahead with my usual hand-coloring assembly line.
No, wait a minute. I said 200 prints, right? Well, that's a small edition for retail goods, but when you're hand-painting each one, 200 feels more like eleventy billion.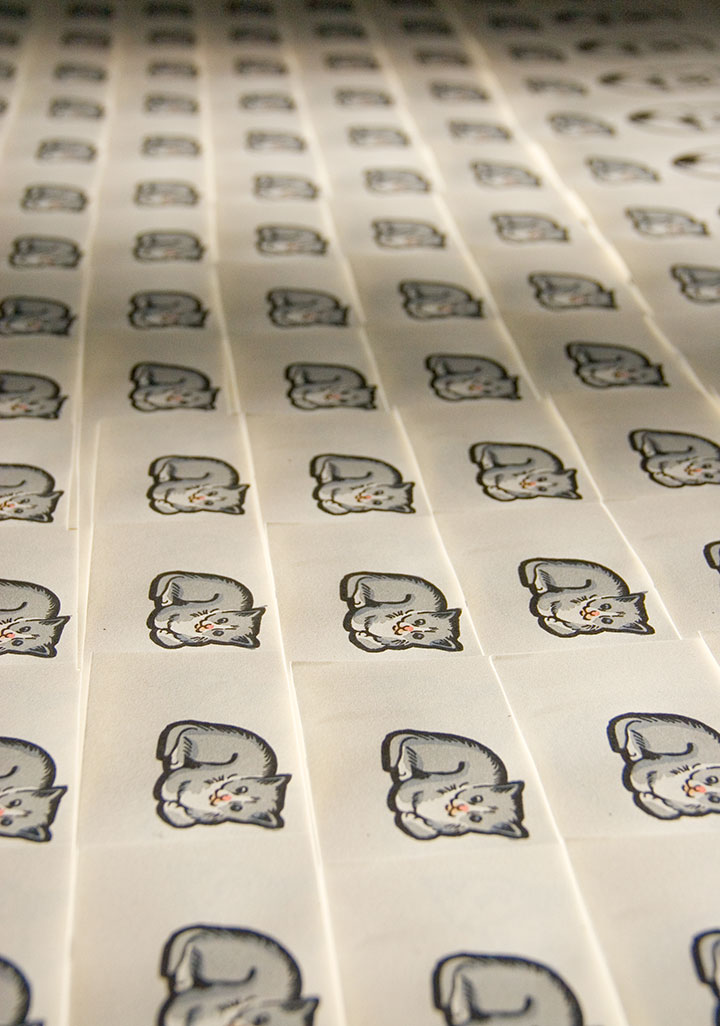 There, that's more of an accurate picture.
Still, if the work stretching endlessly ahead of you to the horizon is a bunch of drawings of kittens, it's impossible not to be happy about it, despite yourself. I know—I tested the hypothesis, and I'm still grinning like a fool.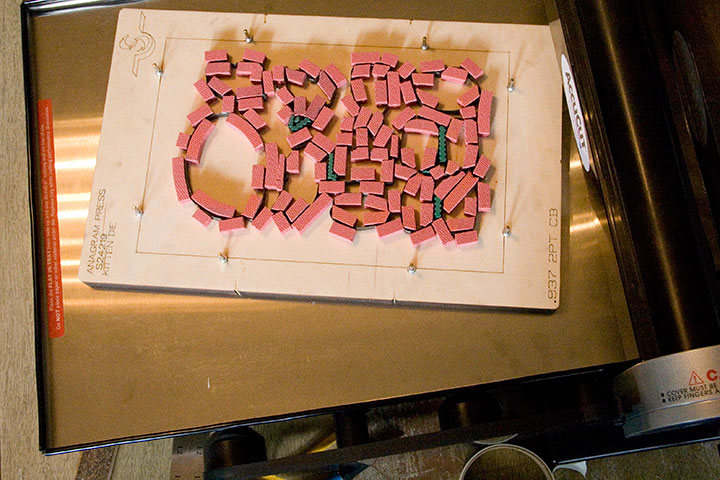 This year I added a new step to the process: rather than hand-cutting all 1200 kitties in the set by hand (ahem, Local Conditions, I'm looking at you!), I made the design simple enough that I could semi-automate part of the assembly line. I bought a hand-crank die-cutting machine, created a digital dieline (basically an industrial pattern) of my design, and sent it off to a friendly steel rule manufacturer in Kent.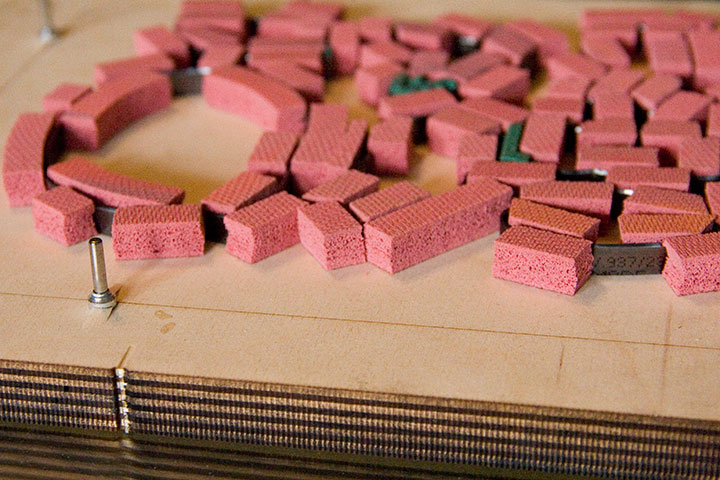 I know that plank with all those pink foam bits doesn't look anything like an ornament set, so let me zoom in. A die consists of steel blades embedded in a piece of wood. The blades are bent and arranged in precisely the configuration specified by the dieline. Those pink foam bits cushion the blades, hold the paper in place and help with cutting accuracy. When the die is run through the cutting machine (which works much like a Vandercook press), those pink bits squish down under pressure, exposing the blades and gripping the paper to be cut. Those metal pins sticking up are for lining up the press sheet—they're spring-mounted, so they retract when the blade goes through the cutting machine.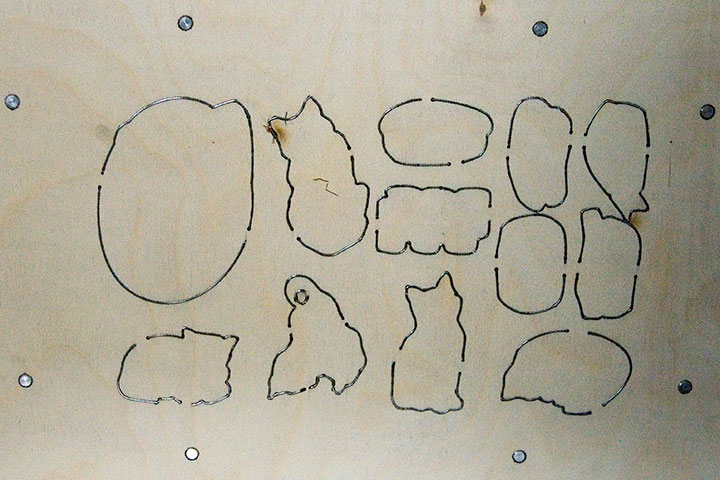 Here's the underside of the die—now you can see how the blades fit the press sheet.
Still, while the die is a total lifesaver in terms of cutting time, the lightweight paper I was cutting made for some wiggle room—even with the extra line tolerance I built into the design. After all that hand-coloring I didn't want to lose a third of my prints by cutting them in the wrong place. So I still had to do some puzzling and figure out how to outsmart the limitations here.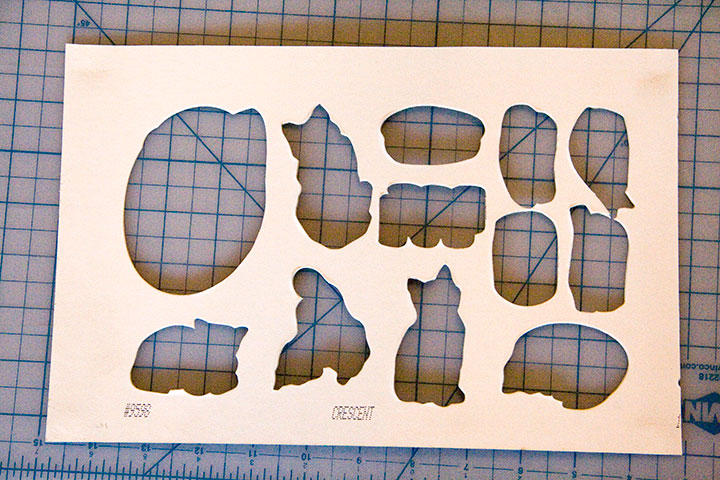 Since the lightweight prints are mounted to a heavier board to complete the ornaments (the ribbon loops are sandwiched in between), I was basically using the die twice. I realized that the leftover blanks of board would make a good template, and wouldn't wiggle under pressure.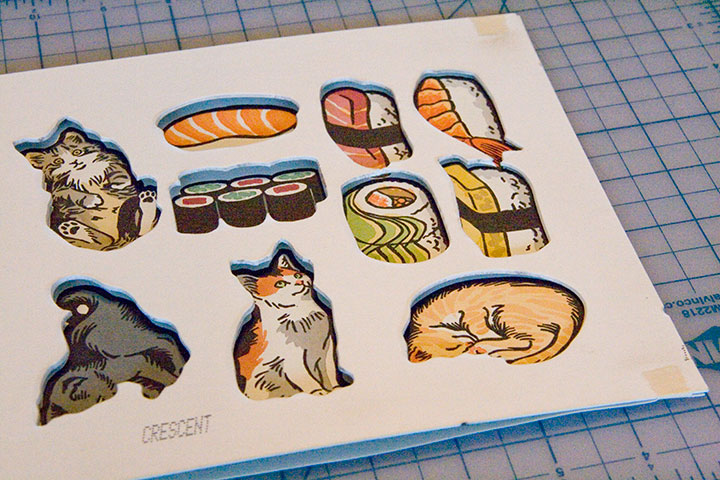 A little masking tape,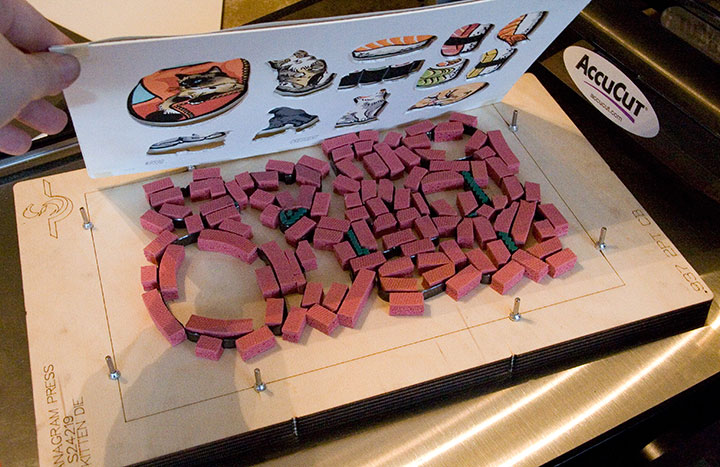 some quick eyeballing,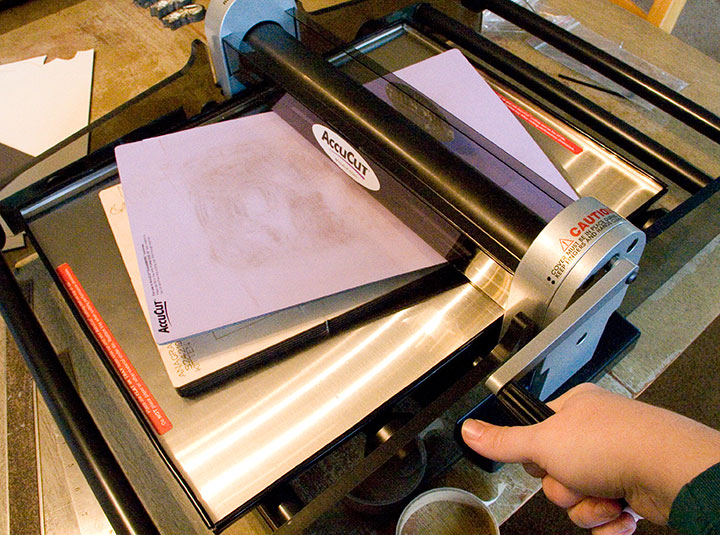 and slow-and-steady cranking in the press—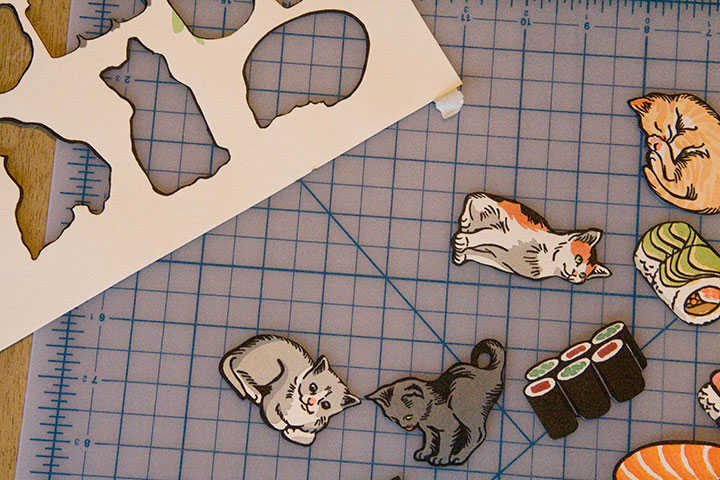 —and Bob, as they say, is your uncle.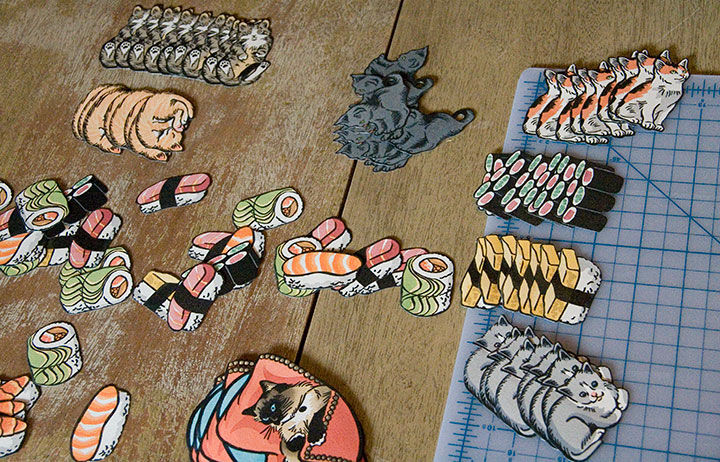 Individually taping down all eleventy billion 200 press sheets was a little mind-numbing, but still, the "finished" pile added up fast.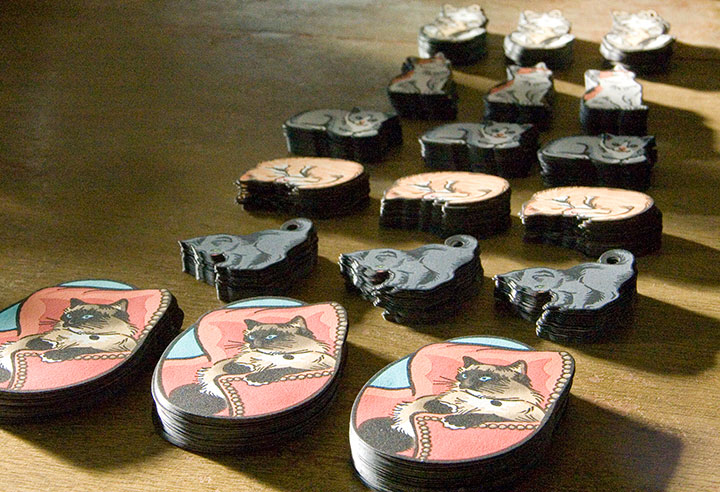 And it was awfully satisfying to see the whole edition completed in days rather than weeks or months.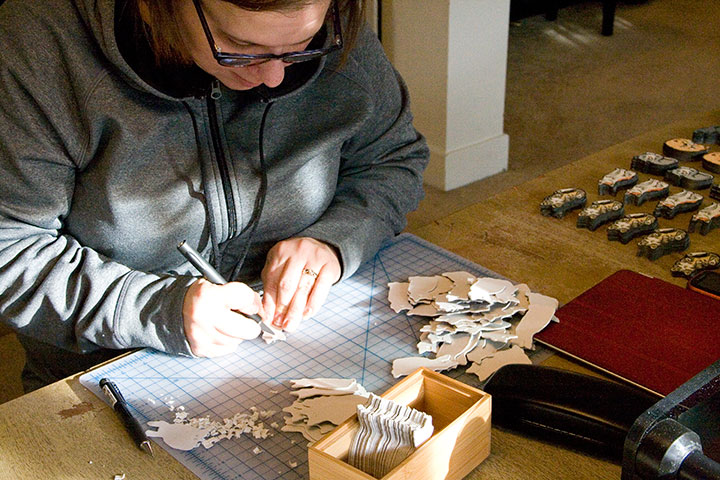 Laurie stepped in and saved my sanity by doing a lot of the grunt work—rough-cutting boards, snipping lengths of ribbon, and cutting insets into the board-kitties so that the ribbon loops lie flush and disappear.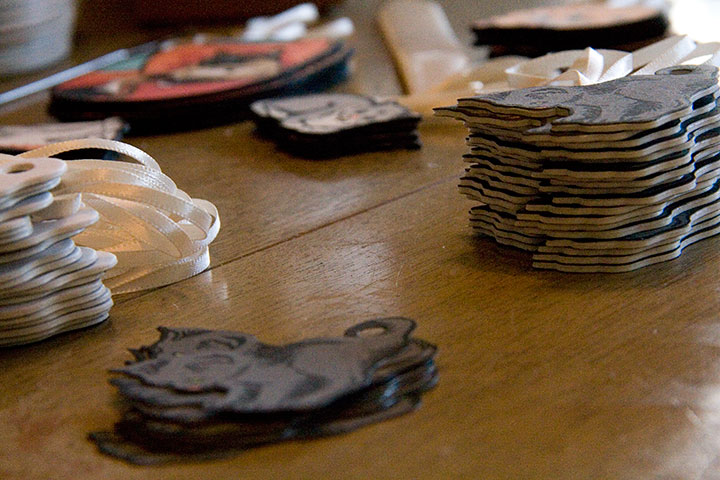 A quick coat of black around the edges,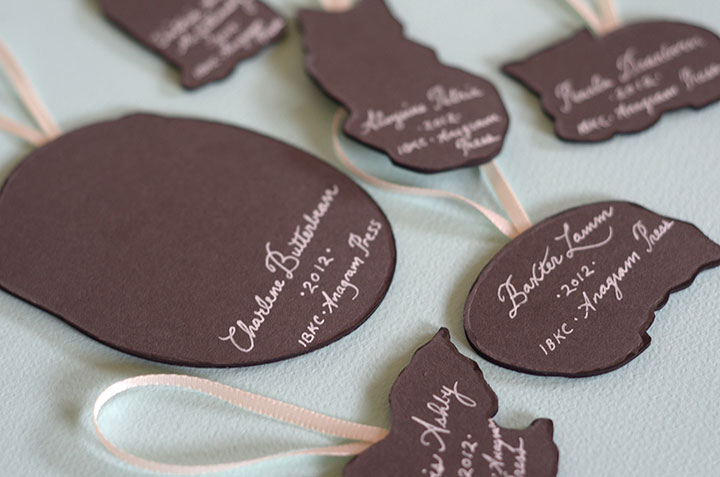 and just a wee bit of cursive script on the back,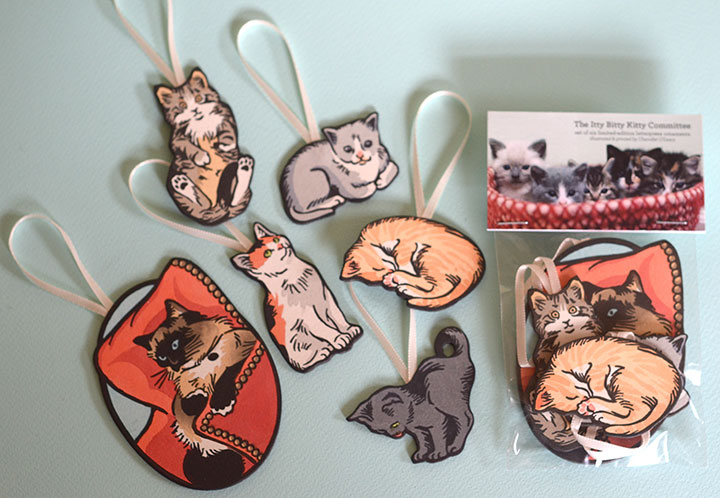 —and we have a litter of Christmas kittens. Laurie contributed one of my favorite photos for the packaging, and I basically have been unable to stop squealing ever since. Now the Tailor and I just need to hurry up and chop down our Christmas tree, so I can display these guys in the living room!
If you'd like a set, they're up in the shop. To answer the foreseeable question, we're just offering these in full sets—they were printed in sets, so we don't really have any oddball solo pieces this time. And last year almost everyone wanted the full set of bird ornaments, rather than just one, so I let those votes carry the motion. Actually, there are still some bird sets left, so feel free to snag 'em if you missed out last year. As usual, these are limited-edition—I won't be reprinting them, so once they're gone, they're gone for good.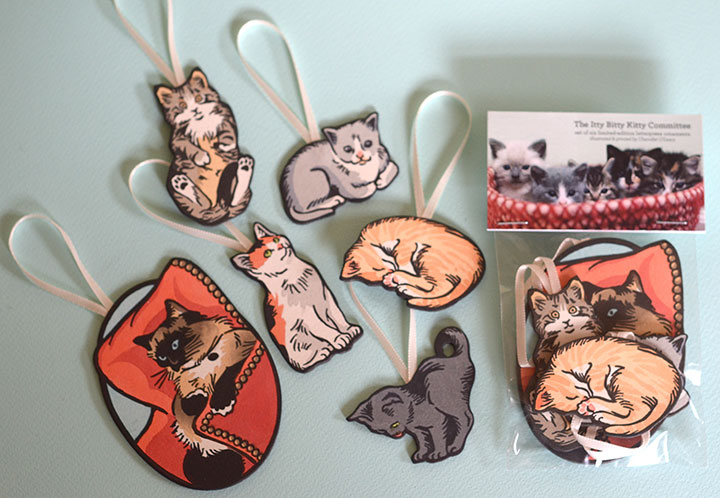 One last thing: to make sure that Tacoma pets also have a happy holiday season this year, Laurie and I will be donating a portion of our proceeds to help stock the Tacoma Humane Society's emergency pet food bank. We want to make sure that while we're all having a kitty-themed Christmas, the kittens who inspire us get to enjoy Christmas dinner, too.
Happy tree-trimming!