October 13th, 2016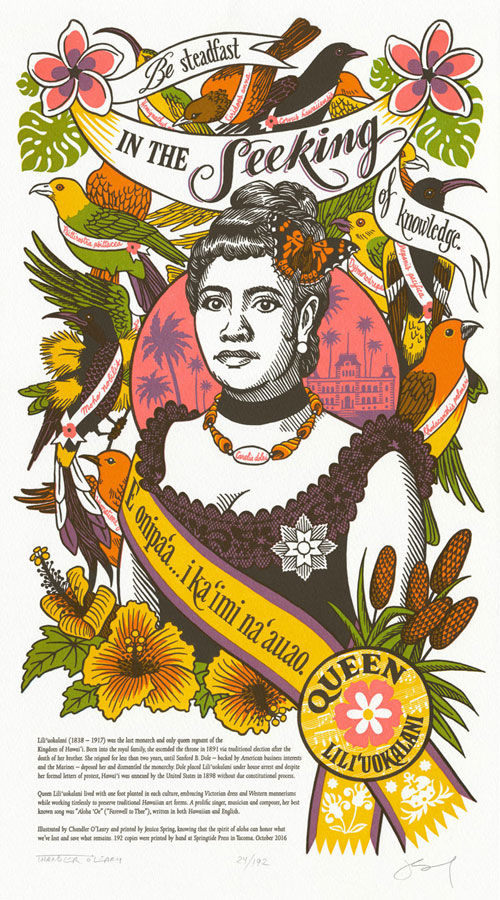 When we wrote and illustrated our new book, Dead Feminists: Historical Heroines in Living Color, it was important both to us and the publisher that we fill the pages with new content, rather than simply rehash the story of our previous broadsides. So it came to us that one great way to do that would be to have a new broadside appear in the book and in the world simultaneously. One of the biggest challenges of doing this (other than having to print the broadside ahead of publication and then keep the secret for months) was choosing who to feature, considering the fact that we'd be introducing the broadside to a brand new and much larger audience. We wanted to feature a woman who touched the world, and who reflected the world we had become.
We live in a global society, with different cultures mingling—and at times clashing—with a regularity we now take for granted. It is easy to forget the imperialist origins of globalization, where Western cultures sought to dominate and even extinguish the societies they encountered. Colonization of the Indigenous world has had far-reaching effects on both people and the environment, the consequences of which we are only beginning to understand. And who better to understand the ripple effects of colonialism than the queen of a colonized nation?
"E onipai'a . . . i ka 'imi na'auao." ("Be steadfast in the seeking of knowledge.")
— Queen Lili'uokalani

Queen Lili'uokalani was the last monarch—and only queen regnant—of the Kingdom of Hawai'i. Raised by traditional Hawaiian custom and a resident of a post-colonial country, she was fluent in the ways of both Hawaiian and Western cultures. Her reign was sadly brief—thanks to powerful foreign interests who refused to share the nation they had claimed for their own. Yet she devoted much of her life to preserving traditional art forms and recording them for others to study. Hers was the middle road—the road of survival.
For Indigenous women like Queen Lili'uokalani, there is no going back to life before Euro-American contact. Yet Lili'uokalani led a life that included and celebrated both the culture of her birth and the one imposed upon her later in life. Her example of sharing both traditions with future generations helps us all create a path forward. We are especially thankful to Alison Milham, a Hawaiian book artist who has extensively researched the Queen and who helped us fine tune our message.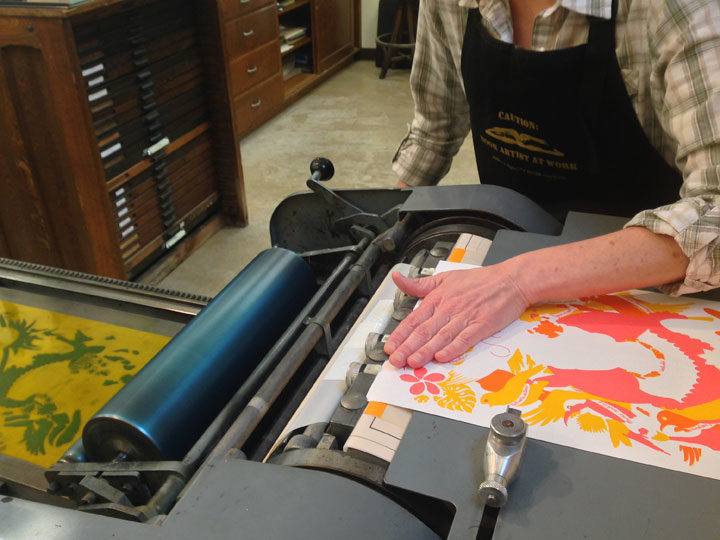 Jessica and I have our own paths to walk when it comes to creating each new broadside in our series. In my case, I'm always eager to explore different historical eras and design styles. And Jessica is constantly looking to push the envelope of what's possible with letterpress printing—she loves to experiment with different techniques, like the split-fountain inking on our Nightsong broadside, or the crazy metallics of Focal Point, or the large floods and knocked-out shapes of Title Nine Iron. This time we wanted to create a tropical rainbow, but rather than printing every letter in ROYGBIV separately, we puzzled out how to create an illusion of a full-color design with translucent, overlapping colors, which Jessica would print in just four passes on press.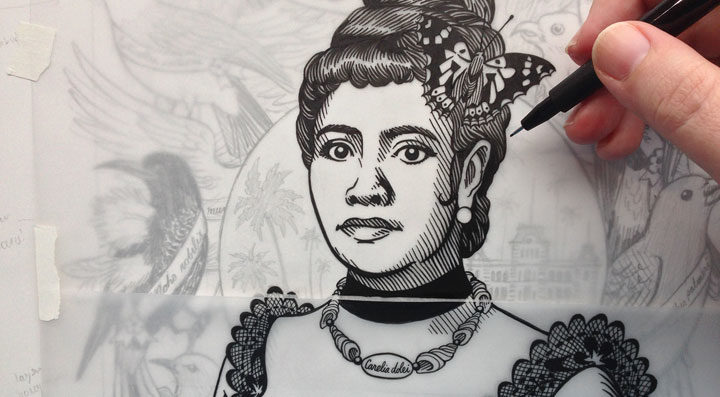 Jessica's job was extra tricky, since the different plates had to line up perfectly to make the illusion work. But my end of the process was confusing, too: since I do the original drawing in black and separate the colors by hand, I had to keep checking and re-checking to make sure I didn't assign some blob of color on the design to the wrong plate.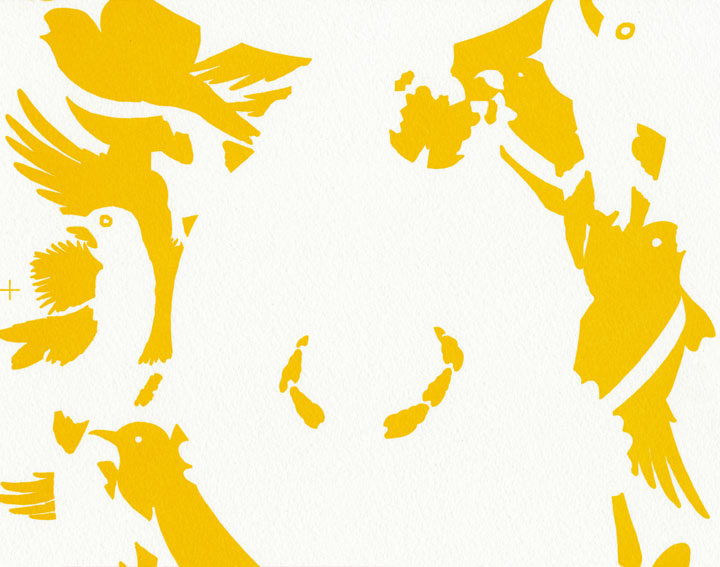 Generally speaking, we usually print our colors from lightest to darkest. So this time we started with a deep saffron yellow—the color of royalty in the Kingdom of Hawai'i, and one symbolic of Queen Lili'uokalani's reign.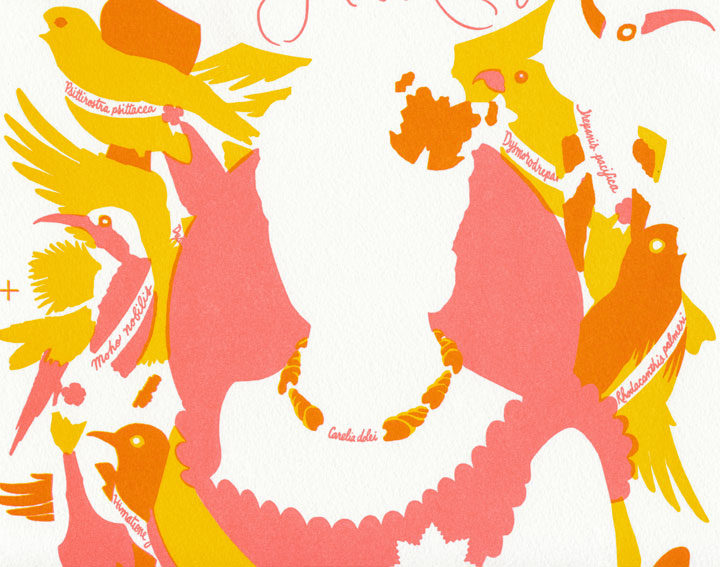 Then we overlaid a hot-hot pink on top of the yellow, one that stood in both for tropical flowers and the blazing color of the sun setting on Hawai'i's Indigenous rulers. Wherever the pink overlapped the gold, the ink mixed to create a fiery orange.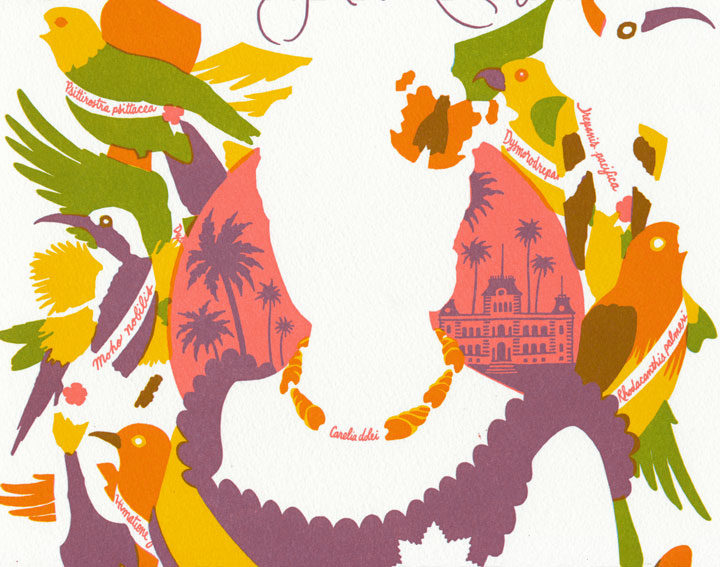 Next came a pass of cerulean blue. This part might seem confusing, because you can't actually see any blue in the finished piece (though you can see it on press on the photo of Jessica above), but it's an essential ingredient of our color scheme. Wherever the blue overlaid yellow, we got green. Where it hit that hot pink, a royal purple resulted. And where it touched any orange areas that resulted from the previous pass, a russet brown appeared.
Finally, we were ready for our last color, a rich black (actually, Jessica ran that last pass twice—the double hit of black made the ink nice and opaque) that brought everything together into harmony: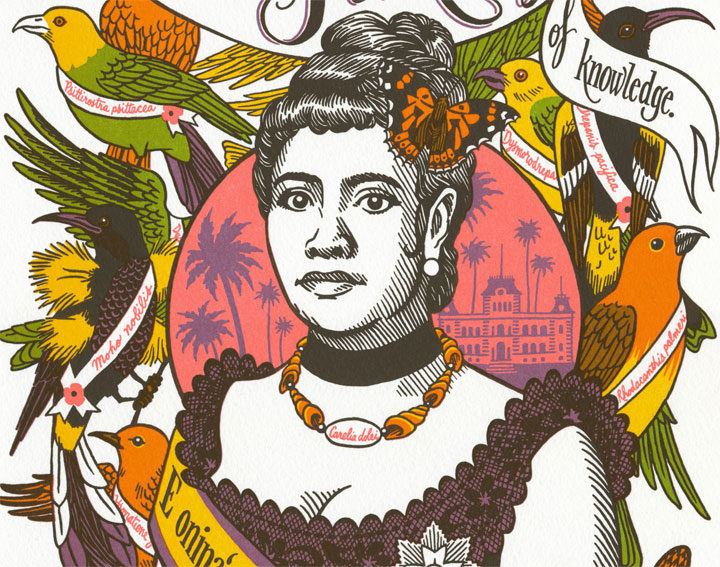 Our 24th broadside, Song of Aloha, depicts the lush flora and unique fauna of Hawai'i.  Plumeria and hibiscus bloom, while leaves and fronds stand in silhouette in homage to traditional Hawaiian quilt motifs. At the center of the design is Queen Lili'uokalani herself, wearing a sash in royal colors, her signature brooch, a necklace of shells (from the extinct species Carelia dolei) and a Kamehameha butterfly in her hair. As a symbol of the vanished Hawaiian monarchy, every bird pictured is an extinct Hawaiian species—including the greater koa finch, the Hawai'i mamo, the Lana'i hookbill, the Hawaiian crow, and several species of endemic honeycreeper that now only exist as museum specimens.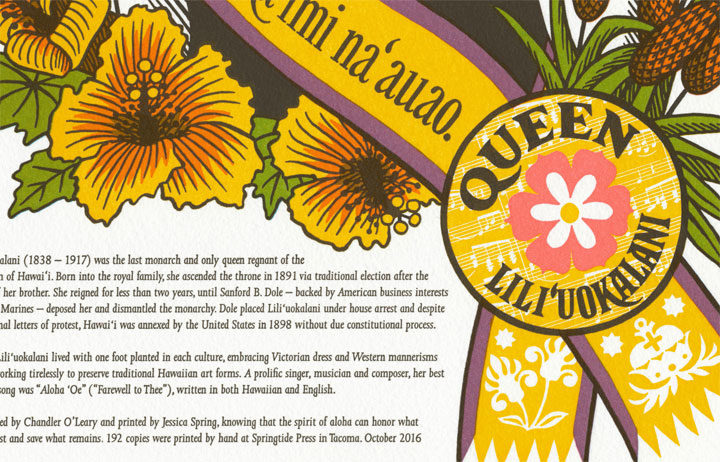 Oh, and hidden in the design are 'Iolani Palace and a line of music from Lili'uokalani's famous composition, "Aloha 'Oe."
This piece marks the inauguration of the Dead Feminists Fund, to which a portion of our proceeds (and those of our new book!) will be donated. In honor of the power of women's work, the Fund supports nonprofits that empower girls and women to create change in their own communities.
• • • • • • • • • • • • • • • • • • • • • • • • • • • • • • • • • • • • • • • • • • • • • • • • • • • • • • • •

Song of Aloha: No. 24 in the Dead Feminists series
Edition size: 192 prints
Poster size: 10 x 18 inches
Printed on an antique Vandercook Universal One press, on archival, 100% rag (cotton) paper. Each piece is numbered and signed by both artists.
Colophon reads:
Lili'uokalani (1838 – 1917) was the last monarch and only queen regnant of the Kingdom of Hawai'i. Born into the royal family, she ascended the throne in 1891 via traditional election after the death of her brother. She reigned for less than two years, until Sanford B. Dole—backed by American business interests and the Marines—deposed her and dismantled the monarchy. Dole placed Lili'uokalani under house arrest and despite her formal letters of protest, Hawai'i was annexed by the United States in 1898 without due constitutional process.
Queen Lili'uokalani lived with one foot planted in each culture, embracing Victorian dress and Western mannerisms while working tirelessly to preserve traditional Hawaiian art forms. A prolific singer, musician and composer, her best known song was "Aloha 'Oe" ("Farewell to Thee"), written in both Hawaiian and English.
Illustrated by Chandler O'Leary and printed by Jessica Spring, knowing that the spirit of aloha can honor what we've lost and save what remains.
Now available in the shop! Or for local folks, you'll find it at Studio Tour this weekend!
Save
Save
Save
Save